Smart Dummies registration is now Closed.
Check out Spring into Writing 2020 https://daniduck.com/springintowriting/ -- Next event starts May 1st 2020! Sign up for emails to get a reminder.
If you have trouble registering (or anything else) you can email me at: [email protected]
Be sure to follow this blog by email to get reminders and read other great posts.
Smart Dummies is a whole month dedicated to helping Illustrators to create their picture book dummies! This is a FREE EVENT!
When is it? 
Smart Dummies starts September 1st 2020.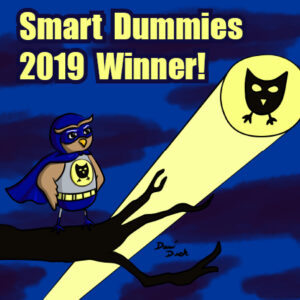 Smart Dummies 2019 Winner Badge.
Where can I find more info?  Join the group on Facebook! This group is for anyone interested in making picture book dummies! You do not have to participate in the event to join. https://www.facebook.com/groups/548159692008535
How do I sign up? Sign up runs August 10th - September 7th. The extended time is for people starting in August for Pre-Smart Dummies. Be sure to follow my blog by email so you can keep up to date with any announcements. Registration is absolutely free for this event!
What's the goal? The goal is to complete the basic images for your picture book dummy in one month. We work on the honor system, so you don't need to post any images to win.Are there prizes? Absolutely! Below is the list of last year's prizes.
What do I need to bring? A polished manuscript, a story/song/rhyme in the public domain (think Grimm's Fairy Tales). It's strongly recommended that you have a story to work on. If your story is all in pictures bring art notes, strong art ideas or thumbnails to draw from.  You do not have to be a Writer to join. If you want your story to be wordless, that's okay!
How can I help? If you are a published Illustrator and would like to do a guest post next year for Smart Dummies or Spring into Writing, please email me at [email protected] or using my contact form.  For this event I'll be mostly approaching people who have published work, have worked in Illustration for years or those who have special insight into creating picture books. You are also welcomed to contact me if you have a prize to donate!